We design & manufacture low voltage switchgear panels & motor control centres. Our in house design & good engineering practices in manufacturing combined together forms the ideal solution to the most demanding motor control applications throughout the industrial market.
Features
Careful attention is given to every aspect of the MCC design. This attention to detail insurers that the MCC is a worthy addition to the low voltage systems family of products.
In-house AutoCAD provides quick turn-around on panel drawing & wiring schematics.
Volume purchasing of industrial control components helps minimize material costs.
It is insured that manufacturing conforms to the highest possible standards; MCC is assembled by well trained and experienced team of workmen.
The MCC also provides the benefit of enhances operator safety.
The MCC is designed in order to meet the demanding requirements for industries such as
Power Generation
Water/Wastewater
Steel & Other Metals
Chemical
Automobile
Fixed type MCC, Motor Control centre with DOL. RDOL/SD Starters
Various designs provided like single/Double Front, DCS/PLC marshalling terminations etc.
Required control voltage facilities with control transformer, control bus.
All starters are provided with type 2 co ordinations wherever required.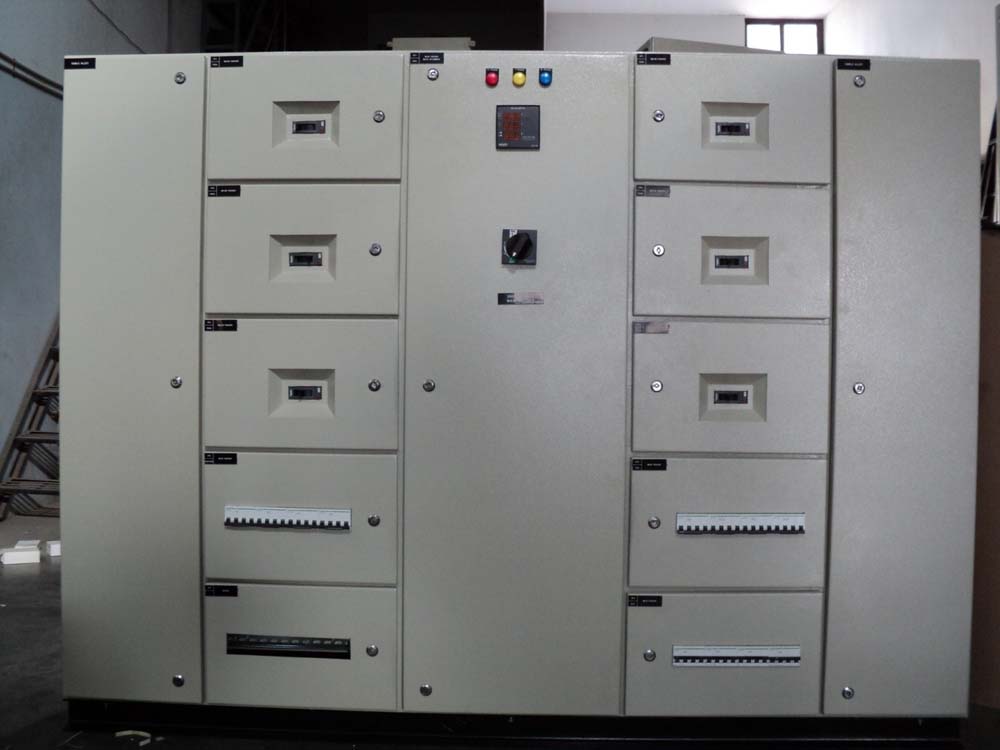 Majority of the low voltage industrial loads are inductive in nature thereby consuming both active & reactive power. This reactive power needs to be reduced and managed by providing power compensation. There are two types of compensation which can be provided Fixed & Automatic.
The limitations on fixed compensation to suit the load requirements. We offer Automatic power factor correction systems which ensures consistence in high power factor without manual intervention.
Features of APFC Panels
Designed with the concept of modularity which allows upgrading of KVAR rating as and when required.
Advanced microprocessor based relay used to ensure real time power factor correction in the installation.
Current limiting contractors are used which are specially designed for capacitor switch.
Specifically design user friendly, dust & Vermin proof modules, Flush mounted meters to indicate line voltage & current.
Provision of incomer cable form to bottom enables you to install the panel in existing panel room without the requirement of civil trenches.
Benefits
Automatically switch ON or OFF relevant capacitor steps to ensure consistent power factor.
Easiness in operation, very low manual intervention.
Reduce losses & lower energy consumption.
Modular design ensures easy handling
Avoid power factor penalty.
We are supplying a comprehensive assortment of Thyristor Controlled Power Factor Panel. Owing to their indispensable features offered control panel are highly demanded in the market. These panels are designed with the help of fine grade basic material and progressive technology in adherence to set industries norms. Moreover, products offered by us can be also be availed in various technical specifications as per different requirements of our precious clients.
Features
Smooth operation
Increase capacitor life
Fast switching with zero cross switching which give transient free switching
Consume low power
Reliable performance
Maintenance free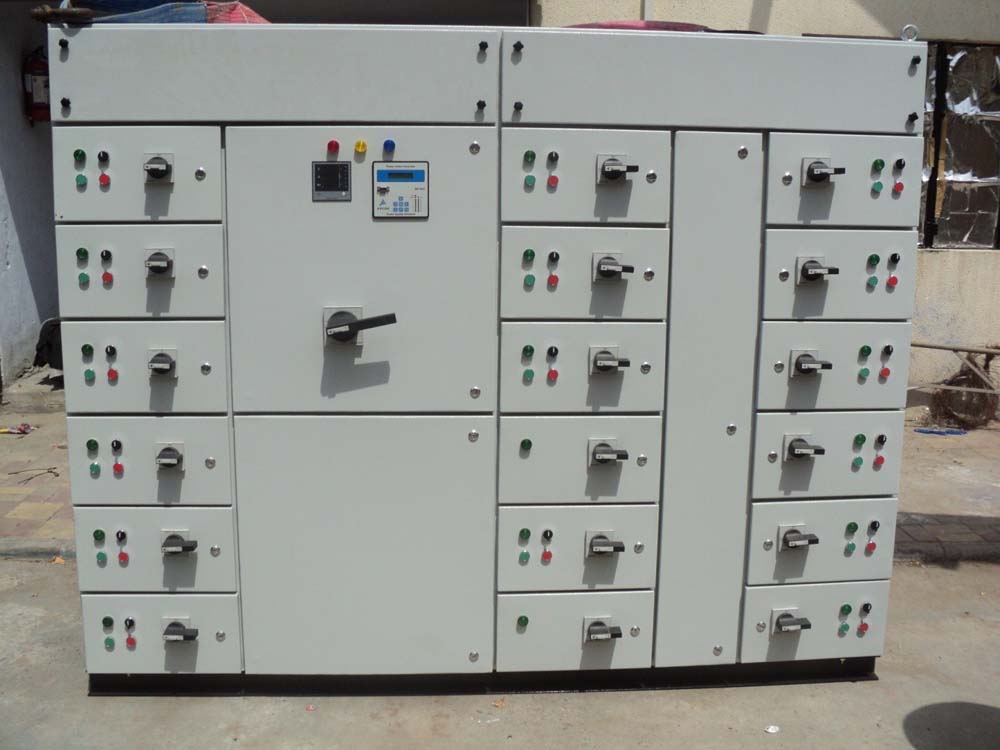 With the inclusion of advanced technical knowledge, we are engaged in presenting a broad assortment of Programmable Logic Controller. Our offered logic controller is widely admired in the market for its optimum performance. Offered logic controller is obtainable in a wide array of technical specifications. This logic controller inspected under the guidance of our quality controllers against numerous parameters of quality.
Features
Longer service life
Great performance in industrial environment
Availability of spares in all over world, so OEMs can easily adapt these controllers for their export jobs
Great support from Electro power Consultancy team for products purchased
HMI
In order to fulfil the ever changing demands of our clients, we have been engaged in offering high quality Human Machine Interface. The offered interface is an easy-to-use programmable terminal. This multi-purpose device is not only an operator display and data-setting terminal, but also a maintenance tool that assists in controlling the entire system. Clients can buy this array at nominal prices.
Features
Lightweight
Compact design
Simple installation
Building or upgrading production facilities requires control systems & electrical products that have durable, reliable & delivered on time. We provide wide variety of PLC Panels to suit customers' process plant operation. The PLC panels are tailor made & customised as per the requirement of the customer. We offer SIEMENS brands of PLC with complete accessories & programming.
We have experienced personnel to assist to solve problems before field installation. Assistance in field installation, testing & commissioning is also provided by us.
Ease in modification of logic, reduced size, means of remote communications and advances in the technology have made PLC Automation Control Panels an edge over conventional relay based systems. Control Systems Engineers has provided. From small I/O application to the complex I/O systems are provided. We offer PLC panel with communication of the PLC Panels in various different protocols. With PLC based Panels HMI/MMI are provided to provide the operator various messages and controls of the process plants touch screen MMI are provided. To effective control of the system
Features of PLC Panels
PLC panels are designed as per end user requirement.
Minimizes human interface, thus minimizes the possibility of error.
Whole system can be monitored & controlled at single junction.
Data Logging of all process parameters with alarm.
We provide flexibility on make of PLC, we can provide any make of PLC.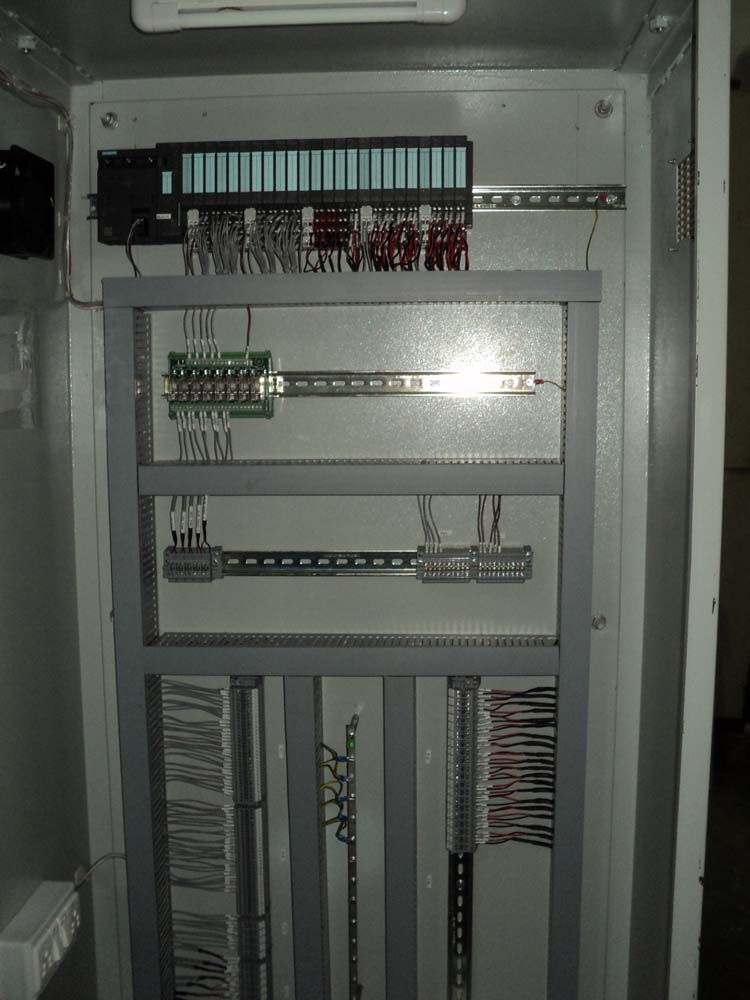 PC based SCADA
Control Systems Engineers has worked for various projects where scada software's r required. Engineering is required to be done for the various tags. Trends, logging, alarms, Sequencing are provided. Various hard copy records are provided after the processing of the various data's.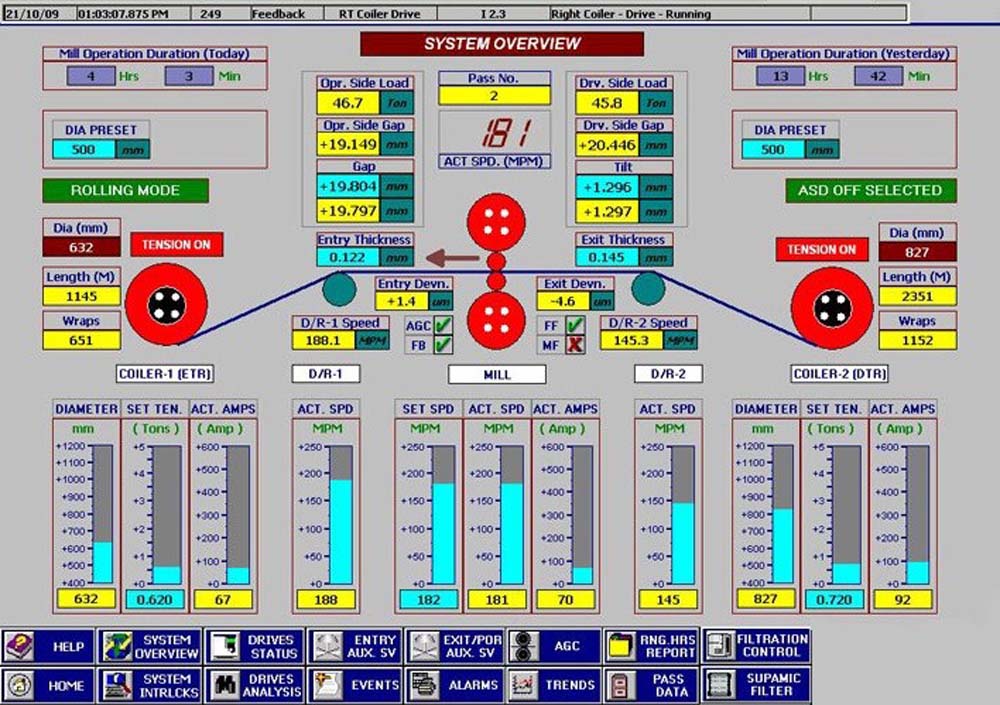 Introduction
Over the years the demand for high quality, greater efficiency and automated machines has increased in the industrial sector of power plants. Power plants require continuous monitoring and inspection at frequent intervals. There are possibilities of errors at measuring and various stages involved with human workers and also the lack of few features of microcontrollers. Thus this paper takes a sincere attempt to explain the advantages the companies will face by implementing automation into them.
The boiler control which is the most important part of any power plant, and its automation is the precise. In order to automate a power plant and minimize human intervention, there is a need to develop a SCADA (Supervisory Control and Data Acquisition) system that monitors the plant and helps reduce the errors caused by humans. While the SCADA is used to monitor the system, PLC (Programmable Logic Controller) is also used for the internal storage of instruction for the implementing function such as logic, sequencing, timing, counting and arithmetic to control through digital or analogue input/ output modules various types of machines processes. Systems are used to monitor and control a plant or equipment in industries such as telecommunications, water and waste control, energy, oil and gas refining and transportation.
Drawback of Conventional System
Conventional equipment systems is prone to errors due to the involvement of humans in the data collection and processing using complicated mathematical expressions. Thus what we require is a system that collects raw data, processes it and presents it in values which can be verified and compared with the standard values. In the coding process of this implementation with micro-controller, it requires a fast and efficient processing which on the other part depends on the length and sub-routines of the coding process. Thus it provides a real challenge with systems involving.
Methods
all the values can be filled up by the introduction of the automation technique into the power plants. The automation technique involving the automatic control of all the processes which includes the monitoring and inspection needs provides for a very efficient system. The automation process helps the company having the power plant to reduce the amount of errors that occur , reduction in the human resources, increased efficiency, and most importantly very cost effective.
Critical Control Parameters In Boiler
A. Level Control Steam Drum level, De-aerator level and hot well level B. Pressure Control Force draft pressure, Induced draft pressure, Steam drum pressure, DE aerator pressure, Turbine inlet steam pressure, balanced draft pressure C. Flow Control Air flow, Steam flow, Water flow D. Temperature Control DE aerator temperature, Steam drum temperature, Under bed boiler temperature, Turbine inlet steam temperature, Flue gas temperature.
Automation
Delegation of Human Control to technical Equipment aimed towards achieving. Advantages Higher productivity, Superior quality of end product, efficient usage of raw materials and energy, improved safety in working condition.
We provide comprehensive engineering solutions for various application in Aluminium, Steel, Copper and other metals. Hot and cold rolling mills and associated. Applications in the Metal industries.
The range of our expertise include the successful commissioning of the following.
2-HI skin pass steel mill
4-HI aluminium cold rolling mill
12 Hi-Steel cold rolling mill
Hot steel rolling mill
6 stand hot rolling tandem mill
Automatic gauge control system
Coolant filtration system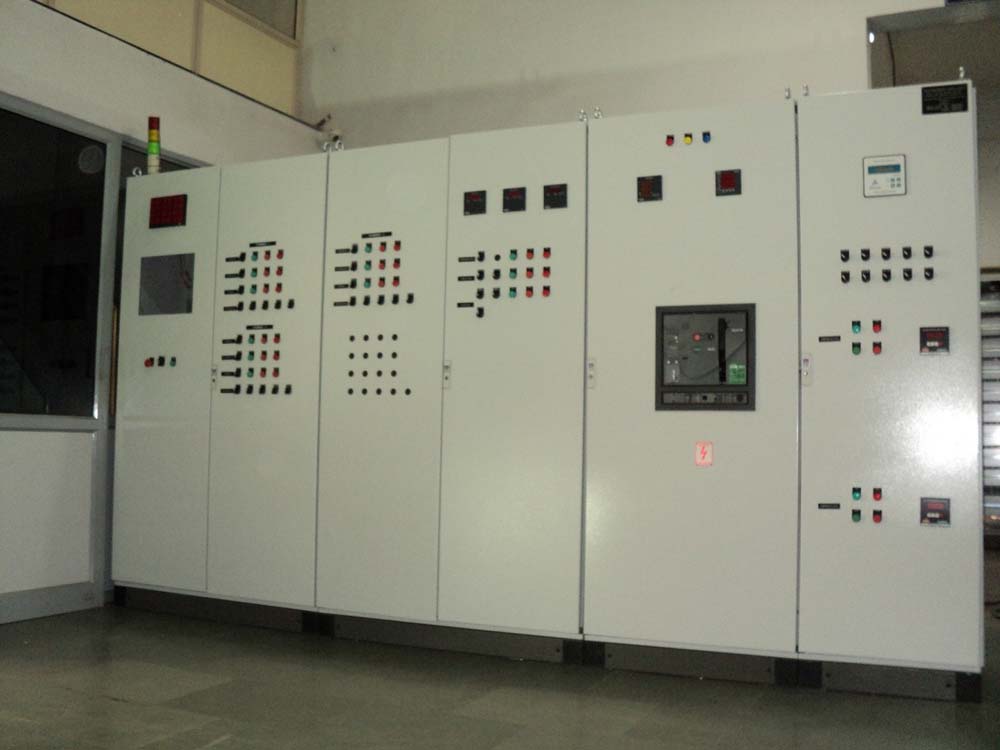 We provide comprehensive support and services towards product selection, engineering and commissioning of Drive systems for all applications in industry. We also help our customers to seamlessly integrate these into their automation systems, with the concept of 'Totally Integrated Automation'. We to our credit, successful commissioning of AC & DC Drive systems in Steel, Rolling Mills, Aluminium Cold rolling mill, Extruder, Printing, Plastic, Cables & various other industries
DC Drives
Simoreg 6RA22/6RA24
Simoreg 6RA70 DC DRIVE
Simoreg 6RA80 DC DRIVE
AC Drives
Micromaster 420/430/440
Simover master Drives
Sinamics G120
Sinamics V20
SIMATIC S7 & TIA Portal
SIMATIC S7-1200 and S7-1500 are the new Generation of Automation systems from SIEMENS. TIA (Totally Integrated Automation) Portal, as the name suggests is the new Integrated Package for Programming and troubleshooting of the complete new Generation of Automation and HMI systems besides S7-300 & S7-400.
We have embraced the new generation automation systems from the day go, which allows us to keep ourselves updated and to provide extensive support for all the new Generation Systems including.
More than 20 years of experience of working on Siemens Automation Systems, provides us with a deep insight into the working of these systems, which puts us in a unique position to provide extensive support for SIMATIC-S7 Systems.
We are proud to have successfully commissioned more than 100 PLC systems of the new generation already in various types of applications. Whether you request, we can provide you with seamless support from product selection to basic engineering, software development, commissioning and post commissioning support.
→ SIMATIC S7 200 SMART
→ IMATIC S7 1200
→ SIMATIC S7 1500
→ SIMATIC S7 ET 200
→ SIMATIC S7 300
→ SIMATIC S7 400
→ SIMATIC BASIC AND COMFORT HMI PANEL
→ Siemens Win CC SCADA
For electrically heated furnaces, the process control shall be based on heat head ratio control philosophy with thyristor heater controllers for better temperature control and energy efficiency. We use PLC for better temperature control and HMI for operator seting and DATA logging.
Perfect temperature uniformity in the furnace useful space.
Automatic temperature control by PLC an instead PID Temperature Controller.
Electrical switch gear items of SIEMENS make, along with controller housed in aesthetic control panel.
Safety interlocks and protection devices for safe furnace operation.